Music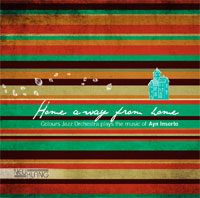 Home Away from Home
From the liner notes: "The first time I went to Italy, I fell in love. Upon returning home, I continued to crave the new place that I discovered. I kept going back, and each time was better than the first. But it wasn't till I was invited by Massimo Morganti in 2008 to Senigallia did I understand the true meaning of Italy. That week changed my life. I discovered an ensemble that performed my music beautifully, musicians that were receptive to my teaching concepts, friendships that last a lifetime, a new place of beauty and a deeper exploration of the soul of Italy in its cuisine; I was home.

Within this recording you will find elements of my experience in Senigallia and the Marche region: the joyous "festa" in Subo, the lush performance by the band and ardent trombone solo in La Danza Infinita, the hard groove in Hang Around and the excellent execution of the horns in You're Leaving and Rabbit Hole. I cannot thank Massimo Morganti enough for making this possible, the Colours Jazz Orchestra for working so hard on this music, the guys at Naive Studio for giving us such a spectacular experience and Johannes Wohlleben for lending us that extra ear and meticulously recording this album. When I think of how my Italian experience had culminated into that week of recording in Fano, indeed, I am overwhelmed with joy, warmth and gratitude. Massimo Morganti and the Colours Jazz Orchestra have become my new family, my home away from home.I cannot wait to go back for more."
Muse
On this recording, built around the theme of celebrating those who inspired her, Ms. Inserto pays homage to influences ranging from her family, friends and bandmates to former teachers (Brookmeyer, Dave Eshelman and John Maltester) to eminent jazz musicians (Michael Brecker, Frank Foster and Steve Lacy). "Her genius is that while her music is harmonically sophisticated, there is a sweet, flowing energy that makes it accessible and enjoyable for any palette," writes Garzone in the liner notes. "You can feel the personal touch in each piece ranging in emotions from remembrance to merriment, and hear the gratitude she has to each influence in her life.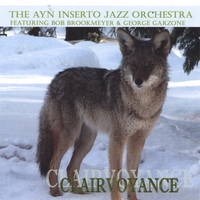 Clairvoyance
Clairvoyance is Ayn's first recording as a leader. This album features her re-arrangements of three Garzone compositions as well as her own originals. The pieces feature the incredible musicality of the ensemble as well as the amazing solos of Garzone and Brookmeyer. There is a wide contrast in moods from piece to piece, and this album promises an interesting ride.